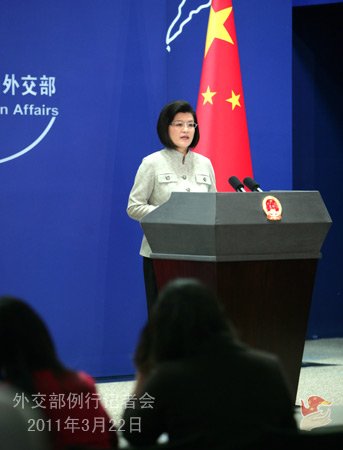 According to People's Daily, on March 22 2011, during a routine press conference, Foreign Ministry spokeswoman Jiang Yu claimed that Libya's future should be decided by the Libyan people themselves.
The Hungarian Revolution of 1956, a spontaneous nationwide revolt against the government of the People's Republic of Hungary and its Soviet-imposed policies, lasting from 23 October until 10 November 1956, was crushed by the invading Soviet army.
According to some sources, the Chinese leader Mao Zedong played an important role in Khrushchev's decision to suppress the Hungarian uprising. Chinese Communist Party Deputy Chairman Liu Shaoqi pressured Khrushchev to send in troops to put down the revolt by force.
So far, Chinese government has not apologized to Hungarian people and government.
True, current Chinese leaders are not Mao and Liu. But if they truly believe in the self determination of people, inside and outside China, they would have offered such apology long ago, and welcomed true democracy everywhere.
據人民日報报道, 在2011年3月22日的例行新聞發布會上,外交部發言人姜瑜稱,利比亚的未来应该由利比亚人民自己决定。
1956年匈牙利革命,一個全國性自發活动, 反抗匈牙利人民共和國政府及其蘇聯強加的政策,從10月23日持續至11月10號,被入侵的蘇聯軍隊粉碎。
據一些消息人士透露,中國領導人毛澤東对赫魯曉夫的決定鎮壓匈牙利起義發揮了重要作用。中共黨的副主席劉少奇对赫魯曉夫施加壓力,派軍隊平息了叛亂的力量。
到目前為止,中国政府尚未向匈牙利人民和政府道歉。
目前的中國領導人与毛澤東和劉少奇的確不同。但是,如果他們真正相信不论在中國内外的人民自決,他們应该已经作出這樣的道歉,並歡迎世界各地的真正的民主。